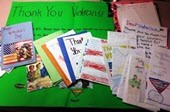 At First Data, we recognize that to succeed in business, we must ensure the communities in which we operate thrive and our owner-associates share a passion in supporting the communities in which they live and work.
Owner-associates throughout the U.S. participate in the Operation Honor Cards annual service project to write letters and cards of support for military men and women, veterans and their families. Teams reach out into their local communities to engage with schools, civic organizations and youth groups to broaden the scope of the project.
In 2016, First Data proudly contributed more than 28,500 cards in support of our nation's military community.