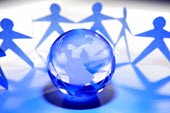 With a commitment to promote diversity and inclusion within our supply base, First Data's Supplier Diversity Program is cultivating a base of qualified alternative sources of supply to help maximize operating efficiency while promoting the growth of businesses that will directly benefit the communities where First Data and our clients function. 
For more information regarding the Supplier Diversity Program please contact the team at SupplierDiversity@firstdata.com.
In order to do business with or be considered as a potential supplier for First Data Corporation, all suppliers need an Ariba® Commerce Cloud account. This site allows any supplier (current or potential) to register their information. Upon completing registration, the supplier must also be approved by First Data's Global Strategic Sourcing (GSS) team.
Registration on the Ariba Supplier network will ensure all suppliers are compliant and will collect information required for First Data reporting as a publically traded corporation. Registration and approval by GSS as a potential supplier does NOT mean the supplier is an approved or preferred supplier for any specific business need.