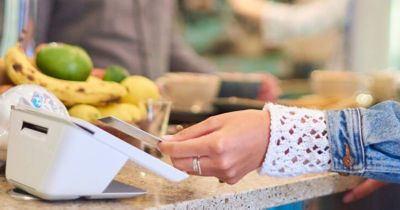 Regarded as one of the largest and most trusted providers of point of sale (POS) hardware, software, and services throughout North America, TASQ Technology has recently changed its name to Hardware Solutions, now available from Fiserv. The team remains committed to providing end-to-end support for its range of high-quality credit card machines and POS solutions. The name change stems from the recent acquisition by Fiserv of TASQ Technology's parent company – First Data.
A Brief History of TASQ
Headquartered in Marietta, Georgia, TASQ Technology was founded in 1994.1 In its early years, TASQ Technology primarily focused on integrating third-party POS hardware designed by other manufacturers into the payment networks and inventory management systems used by banks and credit card companies throughout the country.
Over time, however, TASQ Technology expanded its operations – offering clients a full spectrum of credit card readers and POS solutions, including hardware sales, inventory management, call center services, logistics, deployment, maintenance, and repair. This period also coincided with the rise of eCommerce, prompting TASQ Technology to redirect some of its focus from physical POS hardware into the digital tools and infrastructure that would allow it to thrive in the world of online shopping.
The company's rapid growth eventually caught the eye of First Data, which ultimately acquired TASQ Technology in March 2001. Headquartered in nearby Atlanta, Georgia, First Data was already a leading provider of retail and eCommerce payment solutions throughout North America, Europe, Africa, South America, Asia, and Australia. Adding TASQ Technology's resources and industry expertise to its offerings seemed like a natural fit as First Data looked to expand its reach.
Why Did TASQ Technology Change Its Name?
In July 2019, First Data was acquired by Fiserv – one of the largest providers of financial services technology in the world. With nearly four decades of industry experience, Fiserv has established itself as a leader in payment solutions – servicing the financial needs of banks, credit unions, retailers, securities broker dealers, and lenders in more than 100 countries around the globe.2
In addition to the sheer scope of its presence, Fiserv is one of the only payment processing providers with in-house POS distribution, maintenance, and repair capabilities. This tight integration allows the company to offer exceptional end-to-end support for its vast range of PCI-compliant payment solutions.
TASQ Technology was already well-known in its native U.S., and with its presence in Canada, the company has become one of the most trusted POS providers throughout North America. In joining the larger Fiserv ecosystem, changing its name from TASQ Technology to Fiserv Hardware Solutions allows the business to more accurately align as one of the many direct capabilities Fiserv offers to its merchant clients and partner relationships. It is the exclusive distributor of Clover® POS hardware.
The Fiserv Family
When announced at the time, the Fiserv $22 billion all-stock acquisition of First Data set a new record for the financial technology sector.3 The merger between these two industry giants also created the world's largest merchant services platform.4 However, First Data is only the most recent addition to the Fiserv family.
Since its formation in 1984, the parent company has acquired more than 30 trusted names throughout the financial services industry – including Citicorp Information Resources, VerticalPoint, Consumer Network Services, General American Corporation, Community Financial Services, Information Technology, Inc., Maverick Network Solutions, Bypass Mobile, Dovetail, CheckFree®, InterPoynt, and MerchantPro Express.5
The breadth of these acquisitions clearly highlights the desire of Fiserv to service the diverse needs of a global audience. In addition to the turn-key POS solutions the company has acquired through TASQ Technology, Fiserv offers merchant services, eCommerce support, fraud protection, and other comprehensive business solutions.
To learn more about our complete range of PCI-compliant payment solutions, schedule a free consultation with our merchant services team today.
1 "Tasq Technologies on a growth spurt," Sacramento Business Journal, 19 April 1998
2 "Our History," Fiserv
3 "Fiserv to Acquire First Data in $22 Billion All-Stock Deal," The Wall Street Journal, 16 January 2019
4 "Fiserv, First Data complete $22B merger," Milwaukee Business Journal, 29 July 2019
5 "Fiserv," Crunchbase